Weather
60 Degrees F. Muddy, Sunny, Snow is melting.
Who is online?
In total there is
1
user online :: 0 Registered, 0 Hidden and 1 Guest
None
Most users ever online was
12
on Tue Mar 22, 2016 7:48 pm
(I used to be mossberg)
(The first picture is sheba as a puppy)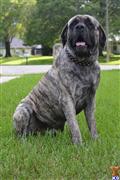 ~Sheba~
~Female~
~1 year and 11 months old~
~Prefers males~
~English Mastiff, Bloodhound mix~
~History~
As a Pup, Mossberg was the largest pup from her mothers litter of 11. Her mother and father were given to a shelter due to money loss, and both escaped. She was taken to a home, Where she joined a gang at only 3 months old. The former leader, Mossberg, had died due to showing she was disobedient. She became the leader, much larger than Mossberg was. She has been in and out of the gang, With a permanent ink stain on her left eye that looks like black eyeliner, Showing people she is the leader of the gang. Her siblings are all in the gang, though she isn't aloud to speak to them. She is also often beaten by the humans.
~Apperence~
She has blue green eyes, With grass green rims. Her coat is darker shades of brindle. Her ear's flop down and curve to the shape of her face, Stopping at her jaw line. Her ears and muzzle are darker than the rest of her. Her tail often sticks straight out, with a darker tip. Her build is very strong, blocky, And agile due to her training as a puppy, and long legs. Her fur is all short and smooth, with cocoa brown and chocolate brown brindle. She weighs about 230-250 pounds, And she is 37-39 Inches at her shoulders. She has black ink eyeliner put there by humans to show she is the leader of a large gang.
~Traits~
Bold, Reliable, Loyal, Very brave, Fearless, Intelligent, Affectionate to those nice to her, Strong Willed, Obedient, Friendly, Clownish, Stubborn, and serious when needed.
~Parents~
Her mother is a English Bloodhound, Her father is a gray brindle English Mastiff
Mother-Sophie
Father- Tank
~Siblings~

(11)
1.
Cabo
~ A tan/fawn male
2.
Jay
~ A brown and black male
3.
Jade
~ A white/bright fawn female
4.
Diamond
~ A darker brindle female (Also the runt)
5.
Bear
~ A silver fawn male
6.
Dust
~ A tan female
7.
Simba
~ A white male (The second largest)
8.
Feather
~ A fawn male
9.
Shelby
~ A pure black female
10.
Beauty
~ A pure white female
11.
Majesty
~ A tan/fawn female
Mate~
None
Crush~
none
Pups~
None
Extras!
Bear and Diamond
Shelby
Simba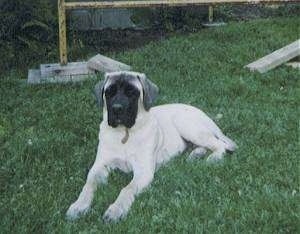 Dust
Feather
Cabo
Jay
Jade (She hasn't seen her in a while, so this is the last time she saw her, when they were both pups)
Beauty
Majesty (This is Sheba's half sister, But the father is unknown, and she is 6 months older than the rest, she is a Bloodhound pharaoh hound mix)



Posts

: 28


Join date

: 2016-03-25


Location

: Probably somewhere, such as behind you, but don't look now, or the suprise will be ruined



Similar topics
---
Permissions in this forum:
You
cannot
reply to topics in this forum