Weather
60 Degrees F. Muddy, Sunny, Snow is melting.
Who is online?
In total there is
1
user online :: 0 Registered, 0 Hidden and 1 Guest
None
Most users ever online was
12
on Tue Mar 22, 2016 7:48 pm
~Rayna~
~Female~
~1 year old~
~Prefers males~
~ Australian Cattle Dog X English Mastiff X Husky~~History~
Rayna was born in to a abusive household, Though she was pretty incredible. She was beaten, The humans cutting her tail on purpose with a knife withut the help of professionals. They would leave her ouside to freeze and force her to guard the house no matter how cold it was. They thought nothing of it because she was not really a complainer, and they fed her well for her large size. She was almost the perfect weight for her size, ony around 5 pounds underweight. She stayed in the home, Wandering wheneever they left her outside, Which was very often, Letting her inside one hour in a day. They live on the Wild peaks, and never made sure she was ok, Even if she was gone for hours and hours.
~Apperence~
She has bright blue eyes of a Husky, With "red" spots all over her face, Which were more of a shade of brown. She wears a blue collar which she is personally scared of due to being choked with it. Her ears are both red, Where her chest, Face, and legs are white with red spots. She has very short fur of a mastiff, with longer fur on her chest like a husky. Her ears stick up like a Husky's. Her tail is cut very short, kind of like a bears tail. She has large paws. She often looks small in her pictures, though she is 40-49 inches at her shoulders, and 280-300 pounds. She is not overweight, but slightly underweight.
~Traits~
Outgoing, Alert, Gentle, Friendly but mean when given reason, Intelligent, Protective of friends/mates or trusted humans, Cautious, Obedient until given reason not to be, Loyal to friends, Energetic, Brave, Protective, Affectionate, Great hunter
~Parents~
Her mother is a black Australian Cattle dog. Her father is a red Alaskan Malamute English Mastiff mix. Where Rayna got her red coat is not known.
Mother-
Hailie. She looks like a normal black/blue Australian Cattle dog.
Father-
Shadow. He is the size of a larger than normal English Mastiff (giving Rayna her very large size), With the coat of a black Alaskan Malamute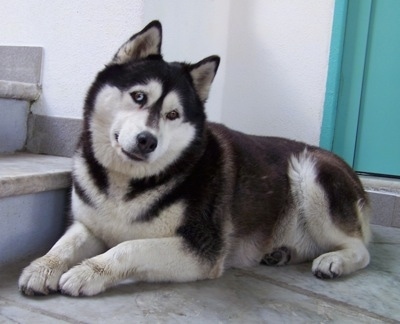 ~Siblings~
All 5 passed away.
Mate~
Lupus
Crush~
none
Pups~
None
Last edited by Rayna on Sat Apr 02, 2016 7:37 pm; edited 2 times in total



Posts

: 11


Join date

: 2016-04-02


Location

: Eh... if your scared easily, Better keep that a secret ;)



Gonna awkwardly accept my own bio...
Looks great! Can't wait to see you roleplaying!
Thank you!
I'm weird....



Posts

: 11


Join date

: 2016-04-02


Location

: Eh... if your scared easily, Better keep that a secret ;)



Similar topics
---
Permissions in this forum:
You
cannot
reply to topics in this forum